LAWRENCEBURG, Ind., November 15, 2017 – The Dearborn Community Foundation, Inc. (DCF) recently honored four community volunteers as 2017 recipients of the "Heart of Gold Award."
The Heart of Gold recipients were recognized for touching the hearts of others through their volunteerism and other acts of kindness. "These honorees deserve this recognition for making a difference in our community in their own unique ways," said Fred McCarter, Executive Director of the Dearborn Community Foundation. "They are all role models for how all of us can have a positive impact on others."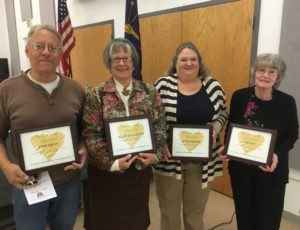 Each of the four Heart of Gold honorees, nominated by others in the community and then chosen as Heart of Gold Award recipients by a Foundation committee, are given the privilege to serve on the "Heart of Gold Grants Committee" to award a total of $2,500 in proactive grants to charitable organizations that serve Dearborn County residents.
In recent years, Heart of Gold recipients have been recognized for helping senior citizens or disadvantaged persons, working to improve the quality of education, expanding recreational or cultural opportunities, working with children, protecting the environment, promoting public safety and other acts of kindness. This year's honorees are Dan Riley, Ruth Ann Little, Julie Saylor, and Liz Day.
Heart of Gold Honorees' Stories
Liz Day
Dearborn County has not been the same since Elizabeth "Liz" Day was transplanted to Aurora. The impact of her contributions to our community will have everlasting effect.
Liz was a founding member of the St. Vincent de Paul Food Pantry in 1992. She and the committee raised funds through collection jars and dances, as well as securing donations from churches in the area. She served as secretary of St. Vincent de Paul for 24 years until she developed health issues. During this time, she set up the recordkeeping which is still followed today. Liz's love for the area shows in her kindness and concern for others whether it is in the pantry or in the neighborhood. Liz has the ability to be a good listener without being judgmental in dealing with clients. She presently helps at the pantry as a substitute worker. She did not forget about the volunteers who worked at the pantry. She made time for them when they wanted to talk. She was a real inspiration.
With her late husband, Jim, Liz worked with the local Habitat for Humanity organization. She kept track of the purchase orders when a house was being built. "Ladies Night Out" for fundraising was another way Liz helped Habitat. As a member of St. Mary Parish, Liz has been on the parish council, a hospital visitor, Eucharistic Minister, as well as numerous other positions. She also volunteered at the library when her son and daughter attended St. Mary. She was involved with the Farmers Fair when St. Mary's booth offered chili for hungry fair patrons. Needless to say, Liz has shown us with her work in the community that she truly has a Heart of Gold. Nominated by Emily Beckman
Ruth Ann Little
Ruth Ann Little of Bright dislikes taking credit for anything. She's one who quietly works behind the scenes. Chances are Ruth Ann will be very reluctant to accept recognition, but there are many of us who believe she deserves it, particularly given the name of the citation – Heart of Gold.
Through decades of volunteering at Dearborn County Hospital; to pitching in and doing whatever she can to help make a Lions, Shriners, or church project a success; to finding help for people in the community who are facing hard times, folks know that Ruth Ann can be counted on to complete tasks with great efficiency – and a lot of heart.
Ruth Ann has been active with the Dearborn County Auxiliary for many years. Several years ago, she was manager of the gift shop and is currently a cashier in the snack bar. For many years, she has created beautiful silk flower arrangements for the gift shop. Ruth Ann has given more than 12,000 hours of service to the Auxiliary and Dearborn County Hospital. You can see Ruth Ann clearing tables at Shriners steak dinners and serving food at Lions Club pancake breakfasts. She has volunteered at North Dearborn Pantry, St. Teresa Benedicta Church and the Bright Fire Department Festival. But her willingness to help people in need has had long-term effects in special ways.
One of those ways is assisting her husband, Art Little, with the extensive and important Bright Lions Club program of providing and delivering medical equipment for free to people throughout the region. This is a huge project. While Art and his team at the Lions Club do most of the deliveries, someone has to take the calls and coordinate the literally hundreds of requests that come in continuously – and that is Ruth Ann. There are times when she makes deliveries herself of any equipment she can fit in her car. For more than 25 years, as township clerk, she helped people in need. She persistently negotiated with utility companies and other vendors to help people with their bills, but her dedication went beyond that. Her theory was, if someone came to the door and really needed help, one way or another they would receive it. The word "no" does not exist in Ruth Ann's vocabulary when it comes to volunteering, and she has done it all her life. She has a true Heart of Gold. Nominated by Celeste Calvitto
Dan Riley
Dan Riley is an asset to the Dearborn County Clearinghouse. He is our volunteer team leader for our warehouse. He keeps our warehouse neat, clean and organized. He always knows what we have in stock, where it is, and he also helps us in reordering the inventory. His skills and kindness do not stop there, anytime we have a shipment coming in or we need an extra hand for a fundraiser, Dan is there to help.
Dan's compassionate heart goes beyond his volunteer work at The Clearinghouse. He takes a personal interest in several of our clients. He lends a shoulder to cry on and a sympathetic ear to listen to their problems. On more than one occasion, he has helped one of our clients get to a job interview or dropped off food to someone who is hungry.
In his personal life, his humanitarian efforts go beyond the call of duty when he transports his neighbors to do errands and to doctor appointments. He also has one friend that he helps maintain his daily medication schedule. His compassion knows no bounds. He has several young men in our community that he encourages to make something of their life. Many of these young men have had a rough past. Dan tries to be a fatherly figure to these young men, encouraging them to believe their future can be bright. His heartfelt selflessness and consideration is an example to us all. Nominated by Charles White
Julie Saylor
Julie Saylor helps anyone who needs a hand. She works as a Lawrenceburg paramedic and helps her family run Spoiled Acres Animal Rescue. But that's not all she does. She has even offered to help buy strangers air-conditioners in the heat of summer with her own money. Most recently, Julie started "Dearborn County Rocks," a group on Facebook that paints rocks and hides them around town for folks to find them. The rocks have positive messages on them along with beautiful artwork. Julie has even asked people to give her names of children, so she could make an individual rock for each child. Once she did this, she took it a step further and found out what area the children frequently visit so they had a better chance of finding their personalized rock.
Tragedy struck Julie's family last year when her young grandson stopped breathing. Thankfully, Julie was home at the time and she was able to help resuscitate him. His medical bills, special care, and appointments have taken a toll on her family's financial situation, yet Julie continues to give back. Her grandson was her inspiration to start "Dearborn County Rocks." The Facebook page started by Julie now has almost 5,000 members from all over the country. Rocks made in Lawrenceburg have been found in other states like Tennessee and Florida. Between "Rocks," the animal rescue, working as a paramedic, and always giving a hand up and not a hand out, Julie truly has a heart of gold. I can't think of anyone else more deserving than her. She puts everyone else's needs before her own just to make the community a better place. Not many people would offer to make hundreds of rocks for strangers' children to make them feel special. She has touched so many lives by giving them a positive message on a rock. It sounds so simple, but it makes a big difference when you're having a bad day and you find one of the rocks. It's hard to fathom the magnitude of her kind soul. Nominated by Cheryl Lawrence