LAWRENCEBURG, Ind., November 14, 2019 – The Dearborn Community Foundation (DCF), Inc. recently awarded a $1,000 proactive grant to the Hoosier Hills Literacy League in support of Dolly Parton's Imagination Library, a children's reading program.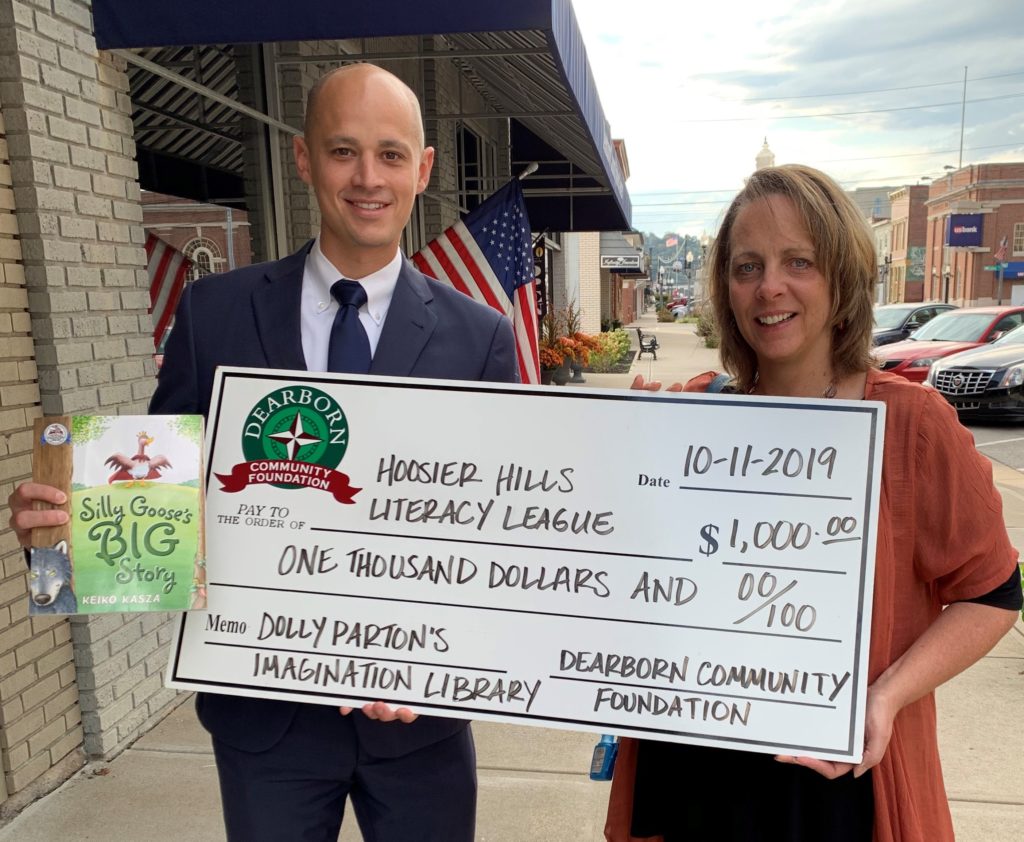 In a continuing effort to make an impact in the Dearborn County community, DCF is awarding 15 proactive grants of $1,000 each to charitable organizations in Dearborn County throughout 2019. Each of the Foundation's 15 volunteer Board members is recommending a grant. The source of the total of $15,000 in grants is the Foundation's Community Funds (also known as Unrestricted Endowment Funds), established by donors to provide flexibility to DCF's Board and staff to address changing needs in the community over the years.
The $1,000 grant to the Hoosier Hills Literacy League was recommended by DCF Board Chairperson Kevin Schafer of Lawrenceburg. Making a recommendation to support Dolly Parton's Imagination Library was an easy one for Schafer.
"In my view, the future is largely dependent on the education of our children, which starts at home. The inspiration for this grant recommendation is our daughter's participation in Imagination Library's book program, which is facilitated through the Hoosier Hills Literacy League," said Schafer. "Once a month, at no cost to us, she receives a new, age-appropriate book in the mail through her fifth birthday. My hope is that this grant brings awareness to Dearborn County families to take advantage of the program and receive the same joy in reading that we do.
"As Napoleon Bonaparte once said, 'Show me a family of readers, and I will show you the people who move the world,'" added Schafer.
For donation and additional information about Dolly Parton's Imagination Library, visit www.hoosierhillsliteracyleague.net.
Anyone can make a contribution to a Community Fund at DCF and help make impact grants like the 15 DCF Board members are recommending in 2019. Thanks to Lilly Endowment Inc.'s GIFT VII initiative, DCF is able to provide a $2-for-$1 match ($2 match for $1 donation) for contributions to any new or existing Community Funds at the Foundation. For a list of the Community Funds (unrestricted endowments) and to learn more about the Foundation, call 812-539-4115, stop by the office at 322 Walnut Street in Lawrenceburg, or visit the Foundation website at www.dearborncf.org. If you are interested in making a contribution to DCF, visit our website's "Give Now" page to donate on line and to learn about other giving options.