LAWRENCEBURG, Ind., May 10, 2021 – The Dearborn Community Foundation (DCF), Inc. recently awarded a $1,000 Proactive Grant to the Alzheimer's Support Groups of Southeast Indiana, Inc. that will be used to improve the quality of life to residents in 10 regional nursing homes.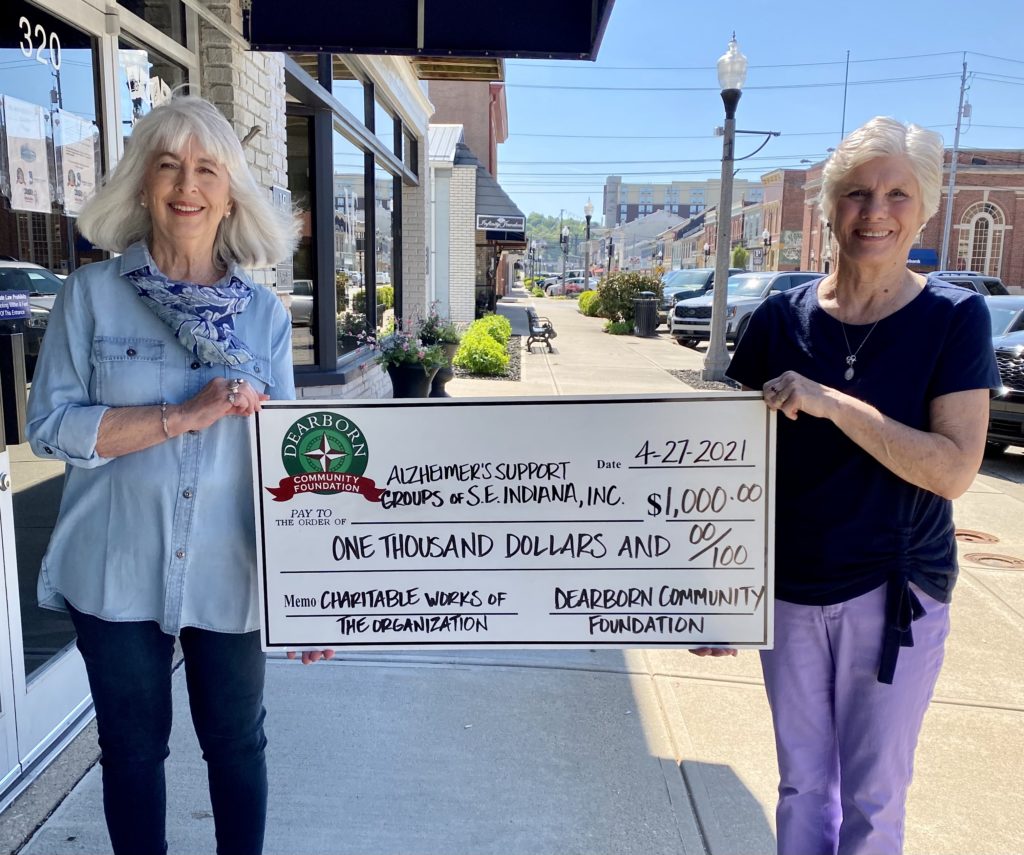 In a continuing effort to make an impact in the Dearborn County community, DCF is awarding 15 proactive grants of $1,000 each throughout 2021 to charitable organizations that serve Dearborn County residents. Each of the Foundation's 15 volunteer Board members is recommending a grant. The source of the $15,000 is the Foundation's Unrestricted Endowment Funds. The funds, established by donors to provide flexibility to DCF's Board and staff, address changing needs in the community.
The $1,000 grant to the Alzheimer's Support Groups was recommended by DCF Board member Fayla Nanz, who said her choice was motivated by first-hand experience and the knowledge that Alzheimer's "is such a tragic and frightening disease" for patients and their families.
"My mother suffered from dementia for a few years combined with a second cancer diagnosis. Her dementia was not diagnosed as Alzheimer's, but the results were very similar. My dad, who was not in the best of health, and I were not prepared to be the best support system for my mom," said Nanz.
"I wish I had known about the Support Groups when my family was embarking on this difficult journey. Hopefully, this award will contribute to this group's commitment of helping others to cope in similar situations."
The Alzheimer's Support Groups of Southeastern Indiana is a multifaceted organization that provides services, information and support. It is independent; neither part of the Cincinnati organization or the Hoosier chapter. Its mission to eliminate Alzheimer's through research, to provide care, and to reduce dementia often comes down to humanitarian efforts by volunteer caregivers, many of them family members who, themselves, need support in their efforts to support their loved ones.
Alzheimer's Support Groups of Southeast Indiana President Sue Manford said the gracious contribution from DCF will be combined with existing funds to assist nursing home residents through an effort similar to the Christmas campaign, during which toy "response dogs" became precious companions.
"They are these mechanical dogs that react when the person pets them. The dogs' reactions put smiles on their faces," said Manford, emphasizing the companions were given during the fall/winter 2020/21 COVOID 19 surge when many residents had no visitors. She clarified the best way to make contributions to the Alzheimer's Support Groups of Southeast Indiana is to mail a check. The organization's mailing address is PO Box 3962, Lawrenceburg, IN 47025.
Manford also encourages relatives of people lost to the disease to keep the local organization in mind when recommending contributions. For other local information, call 1-888-422-2691, or go on line where there are several options, including www.thefamilycaregiver.org.
Anyone can make a contribution to an unrestricted endowment at DCF and help make impact grants like the 15 DCF Board members are recommending in 2021. For a list of the unrestricted endowments and to learn more about the Foundation, call 812-539-4115 or visit the Foundation website at www.dearborncf.org. If you are interested in contributing to DCF, visit our website's "Give Now" page to donate online and to learn about other giving options.