LAWRENCEBURG, Ind., November 12, 2021 – The Dearborn Community Foundation (DCF), Inc. recently awarded a $1,000 Proactive Grant to St. Lawrence School for its Adopt-a-Student Fund, which provides support to help families who can't pay the full cost of tuition due to hardships.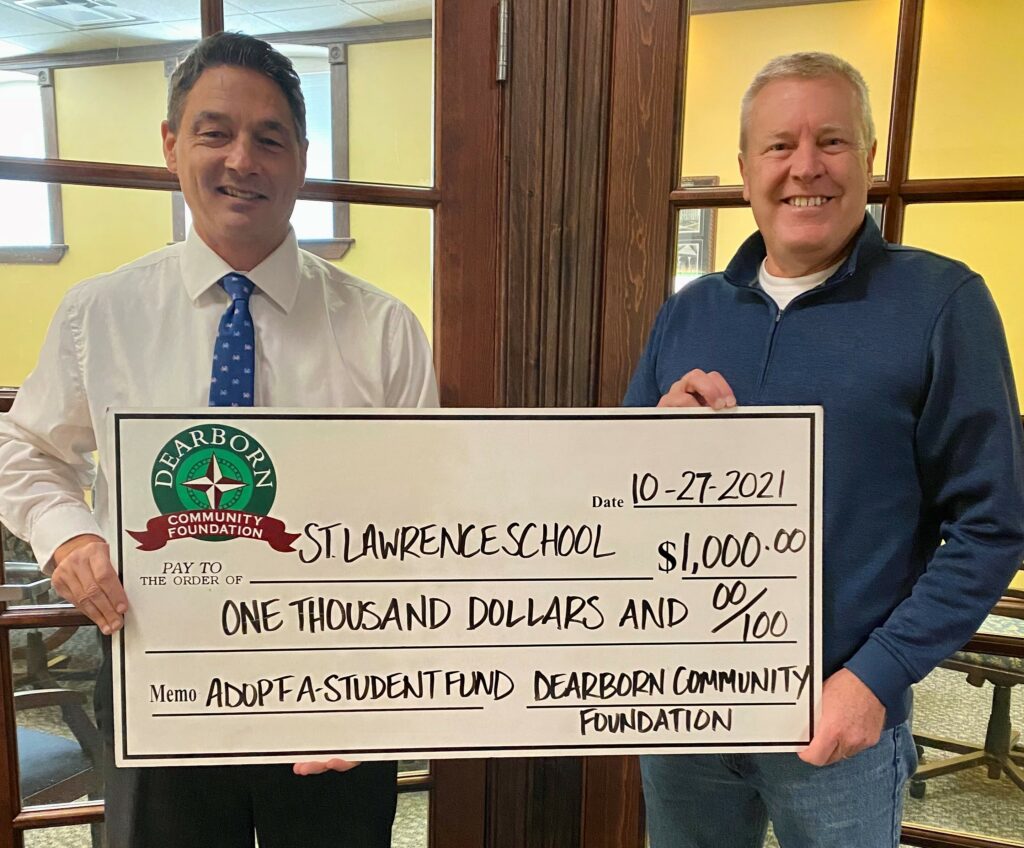 In a continuing effort to make an impact in the Dearborn County community, DCF is awarding 15 proactive grants of $1,000 each throughout 2021 to charitable organizations that serve Dearborn County residents. Each of the Foundation's 15 volunteer board members is recommending a grant. The money comes from the Foundation's Unrestricted Endowment Funds, established by donors to provide flexibility to address changing needs in the community over the years.
DCF Board member Mike McLaughlin recommended Adopt-a-Student because of his family's experience with St. Lawrence School. Both of his daughters attended St. Lawrence, and McLaughlin and his wife were extremely active with the school. "While we are fortunate enough to have a very strong public school system, we wanted our children to have daily school exposure to the Catholic faith," said McLaughlin.
"Our family has supported the Adopt-a-Student program for many, many years. During our time with the school, we saw firsthand how the tuition increased and the financial burden this placed on families who chose St. Lawrence for reasons similar to my wife and I."
The financial hardship the pandemic lashed upon many families was the deciding factor in his choice, said McLaughlin.
The Adopt-a-Student Fund is used for current St. Lawrence families who need tuition assistance, said Principal Rob Detzel. "It's just a small fund that we ask our church-goers and anyone in the community to donate to. Actually, we have had people who are not Catholic or in the church community who have been affected in some way, and just want to give back." he said. "It is a fund that we have for families who are in need, and want to go to St. Lawrenceburg but can't afford the full cost of tuition."
The fund also is used to help families who have partial scholarships. The fund strictly is for tuition. No supplies or other school-related materials can be paid through the program, he added.
Folks interested in helping are encouraged to call the school at 812-537-3690, or simply mail a check specifying the donation is for the Adopt-a-Student program. Include a brief note.
Anyone can make a contribution to an unrestricted endowment at DCF and help make impact grants like the 15 DCF Board members are recommending in 2021. For a list of the unrestricted endowments and to learn more about the Foundation, call 812-539-4115 or visit the Foundation website at dearborncf.org. If you are interested in contributing to DCF, visit our website's "Give Now" page to donate online and to learn about other giving options.