LAWRENCEBURG, Ind., November 16, 2021 – The Dearborn Community Foundation (DCF), Inc. recently awarded a $1,000 proactive grant to Oxbow, Inc., the steward organization of the most important Tri-State wetlands covering 2,600 acres of river-bottom farmland on the Ohio River shoreline.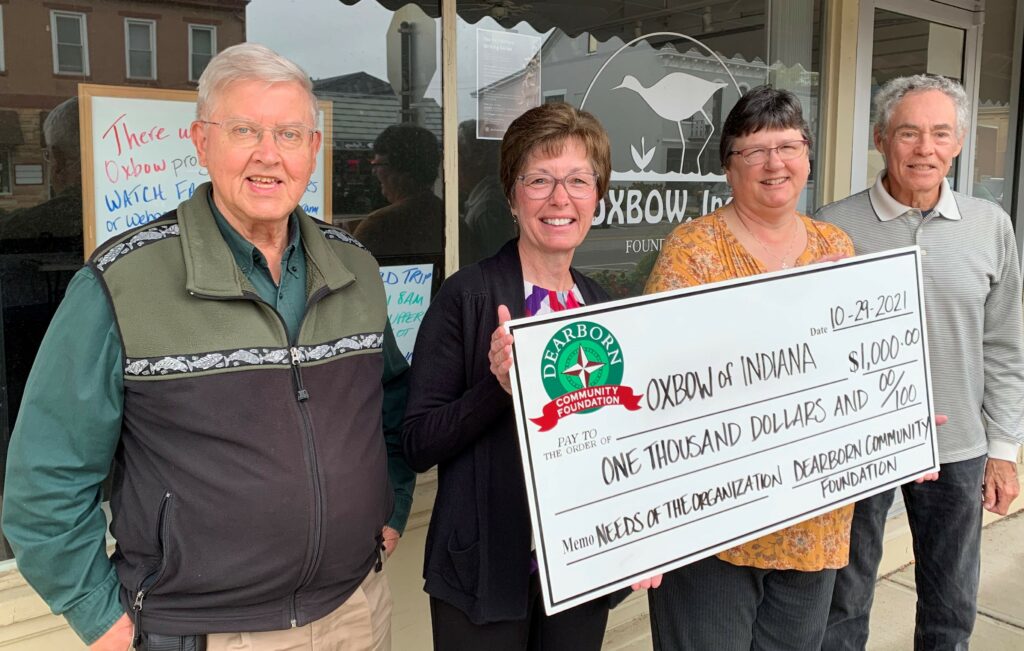 The Oxbow board of directors put the money back into the community by sponsoring two local Eagle Scout projects that require the Scouts to raise funding to help finance a trail and a parking entrance for the wetlands, said Oxbow President Jon Seymour.
"These funds will purchase goods and services from local contractors, keeping the money in the community. We end up with two Eagle Scouts, an improved Oxbow, and more sales for local merchants," he said.
The broad floodplain, where the Great Miami River meets the Ohio River, near Lawrenceburg/Greendale, draws the Tri-State's largest concentrations of ducks and herons, said Seymour, adding the organization protects the wetlands from industrial development. There is not a building on it. Named for a small oxbow-shaped lake, the Oxbow almost every year is flooded with shallow water that deposits nutrients from upstream. Its traditional agricultural use is vitally important to migrating birds, he said.
In a continuing effort to make an impact in the Dearborn County community, DCF, throughout 2021, is awarding 15 proactive grants of $1,000 each to charitable organizations that serve Dearborn County residents. Each of the Foundation's 15 volunteer board members is recommending a grant from the Unrestricted Endowment Funds, established by donors to provide flexibility to address changing needs in the community over the years.
The Oxbow grant was recommended by DCF board member Jeanne Lehn.
"The work of the Oxbow is inherently consistent with a personal passion I have for preserving and appreciating wildlife and its habitats," said Lehn, who describes the wetlands as vital to the ecosystem.
"Furthermore, I am an active birder and enjoy the beauty these wetlands bring," said the retired nurse executive who has lived in Lawrenceburg for nearly 30 years.
Oxbow holds 11 public education seminars per year and special seminars and tours can be arranged. Oxbow also gives annual college scholarships to local high school students and provides educational grants to support k-12 teaching of nature in the local schools, said Seymour. "We are thrilled to receive the grant of $1,000 from the Dearborn Community Foundation. Oxbow prides itself on being a partner in building Dearborn County's reputation by providing a 1,600-acre nature conservancy open to the public for education and enjoyment of the outdoors."
The Oxbow floodplain covers about 2,600 acres, of which, Oxbow protects 1,630 acres, mostly in Indiana. Great Parks of Hamilton County protects another 1,000 acres, all in Ohio. More than 290 species of birds and 472 species of vascular plants have been identified in the Oxbow. More than 60 species of fish and over 55 species of butterflies also have been confirmed.
A Land Trust organization, Oxbow, Inc. is a 501(c)3 charitable group. Donations can be made by addressing a check to Oxbow, Inc. P.O. Box 4172, Lawrenceburg, IN 47025. Memberships start at $25 annually. The organization is on Facebook at oxbowinc and on the web at oxbowinc.org.
Anyone can make a contribution to an unrestricted endowment at DCF and help make impact grants like the 15 DCF Board members are recommending in 2021. For a list of the unrestricted endowments and to learn more about the Foundation, call 812-539-4115 or visit the Foundation website at dearborncf.org. If you are interested in contributing to DCF, visit our website's "Give Now" page to donate online and to learn about other giving options.