LAWRENCEBURG, Ind., November 23, 2021 – The Dearborn Community Foundation (DCF), Inc. recently awarded a $1,000 Proactive Grant to the People for Animal Welfare Society (PAWS) of Dearborn County to support the work the organization does with unwanted and abandoned animals.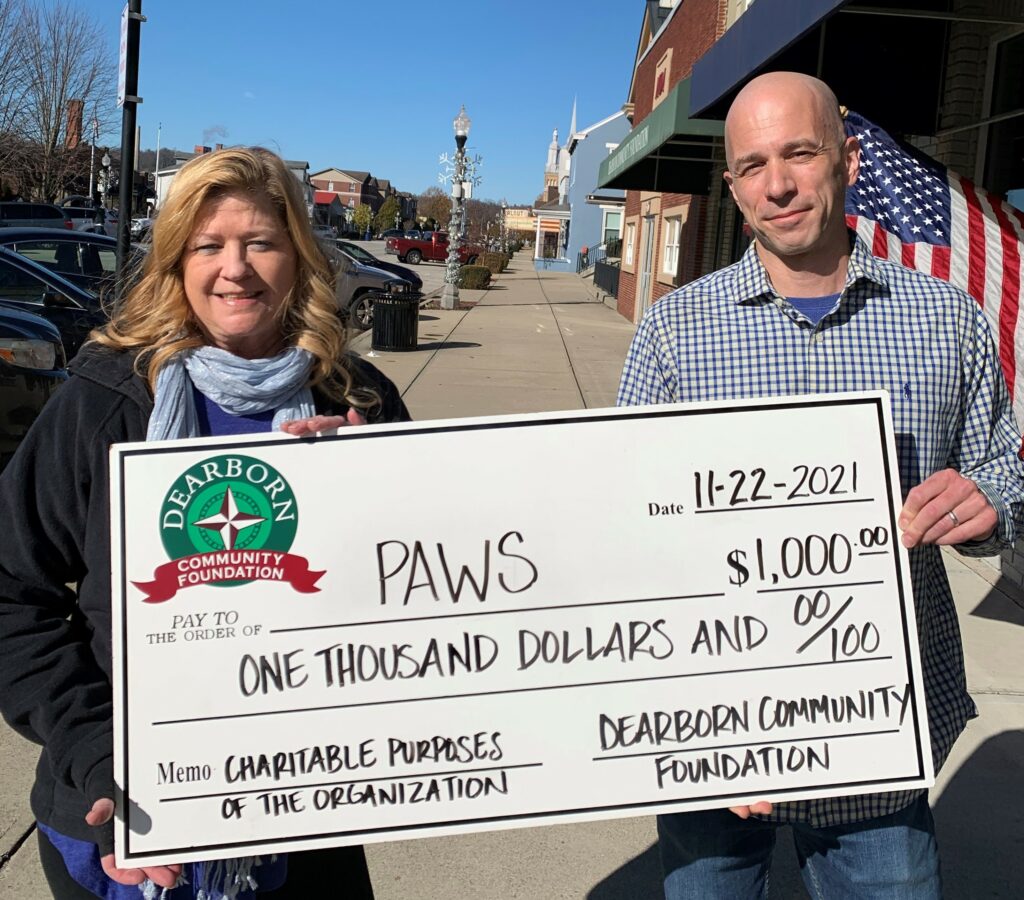 In a continuing effort to make an impact in the Dearborn County community, DCF is awarding 15 proactive grants of $1,000 each throughout 2021 to charitable organizations that serve Dearborn County residents. Each of the Foundation's 15 volunteer board members is recommending a grant. The money comes from the Foundation's Unrestricted Endowment Funds, established by donors to provide flexibility to address changing needs in the community over the years.
DCF Board member Ramzi Nuseibeh, Lawrenceburg, recommended the grant to PAWS because he likes the work the organization does with unwanted and abandoned animals in the community. "I like dogs and I know PAWS does a great job with the animals it takes in," he said. "Dogs need to be taken care of too!"
Nuseibeh said family members have adopted animals from PAWS and the experience has always been great. He also realizes the COVID-19 pandemic has made it tough for PAWS to raise funds and do the work necessary to carry out its mission improve the lives of unwanted and abandoned animals by providing a safe and humane shelter environment to promote adoptions and pet owner education.
PAWS staff accountant Kelly Hedger says the pandemic has indeed impacted the organization's ability to fundraise the last couple of years. "A donation like this really helps when we've not been able to do the type of fundraising, we usually do," she said. "This grant certainly will help us with the daily care of animals, the cost of medicines, food and more, and we greatly appreciate it." she said.
PAWS not only shelters and cares for animals, but also works to reduce the animal population in Dearborn County by sponsoring spay/neuter programs. To learn more about you can help PAWS fulfill its mission, please check out the organization's website: pawsofdearborncounty.org. You can donate online by clicking on the "donate" tab.
Anyone can make a contribution to an unrestricted endowment at DCF and help make impact grants like the 15 DCF Board members are recommending in 2021. For a list of the unrestricted endowments and to learn more about the Foundation, call 812-539-4115 or visit the Foundation website at dearborncf.org. If you are interested in contributing to DCF, visit our website's "Give Now" page to donate online and to learn about other giving options.