LAWRENCEBURG, Ind., December 3, 2021 – The Dearborn Community Foundation (DCF), Inc. recently awarded a $1,000 Proactive Grant to Hogan Township Volunteer Fire Department in rural Aurora.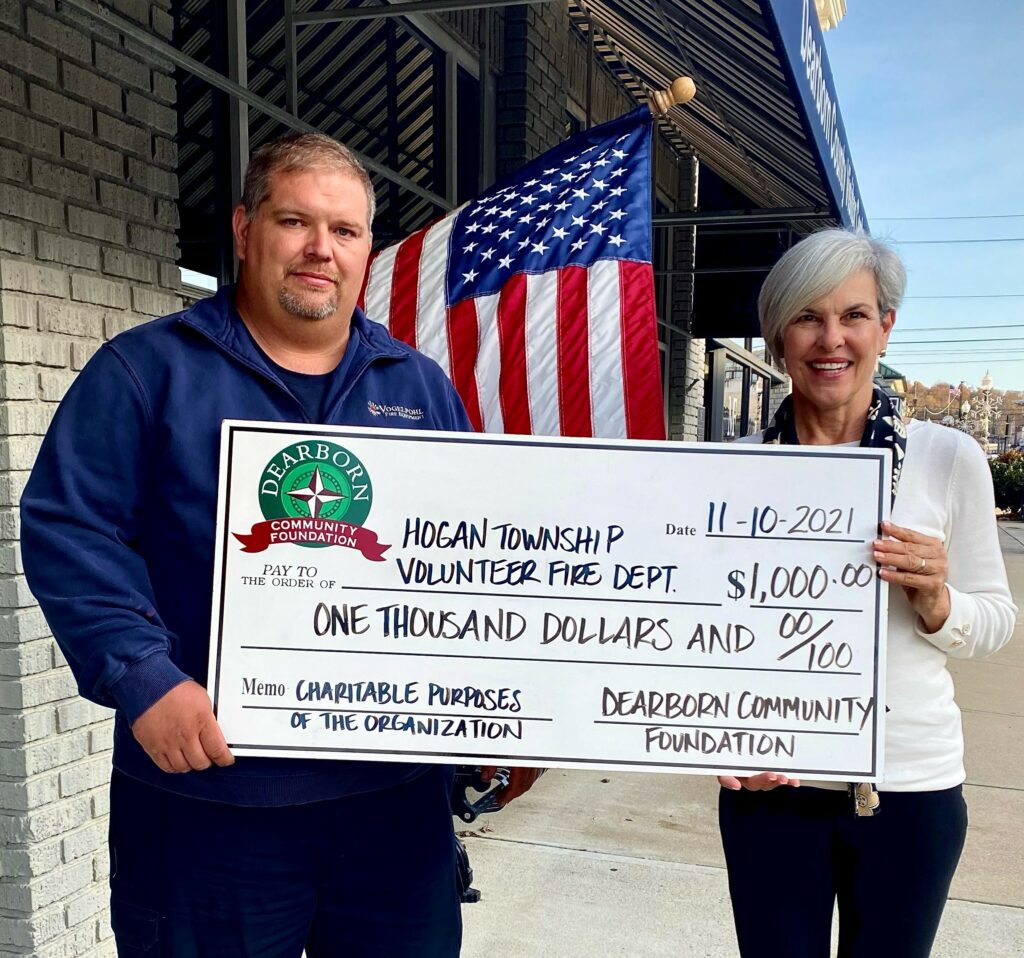 In a continuing effort to make an impact in the Dearborn County community, DCF is awarding 15 proactive grants of $1,000 each throughout 2021 to charitable organizations that serve Dearborn County residents. Each of the Foundation's 15 volunteer board members is recommending a grant. The money comes from the Foundation's Unrestricted Endowment Funds, established by donors to provide flexibility to address changing needs in the community over the years.
DCF Board President Elise Smith, a Hogan Township resident, recommended the grant because she has special ties to the fire department. The late Dale Cotton, who was Smith's neighbor, was a longtime volunteer firefighter for Hogan Township. He also was the God Father of Smith's daughters.
"Dale was a great neighbor and a great friend to us," Smith said. "I thought this grant would be a great way to help the community and to show appreciation for Dale."
Hogan Township Fire Chief Earl Shuter said receiving the proactive DCF grant was a surprise and greatly appreciated. "Everything we need to do our work for the community is expensive, so any donation like this is really appreciated," he said. The $1,000 grant will be used to help purchase turnout gear for the department that has more than 20 volunteers.
Hogan Township Volunteer Fire Department serves about 3,000 people. The fire department can always use the support of the community through attendance at fundraisers, said Shuter. Anyone who wants to support the fire department can also make donations via check and send them to Hogan Township Volunteer Fire Department, 12900 Water Street, Aurora, IN 47001.
Anyone can make a contribution to an unrestricted endowment at DCF and help make impact grants like the 15 DCF Board members are recommending in 2021. For a list of the unrestricted endowments and to learn more about the Foundation, call 812-539-4115 or visit the Foundation website at dearborncf.org. If you are interested in contributing to DCF, visit our website's "Give Now" page to donate online and to learn about other giving options.