LAWRENCEBURG, Ind., October 26, 2022 – The Dearborn Community Foundation (DCF), Inc. recently awarded a $1,000 proactive grant to the Cops and Kids Program to help the members of the Laughery Valley Lodge of the Fraternal Order of Police shop during the holidays with families in need of financial help to clothe their children.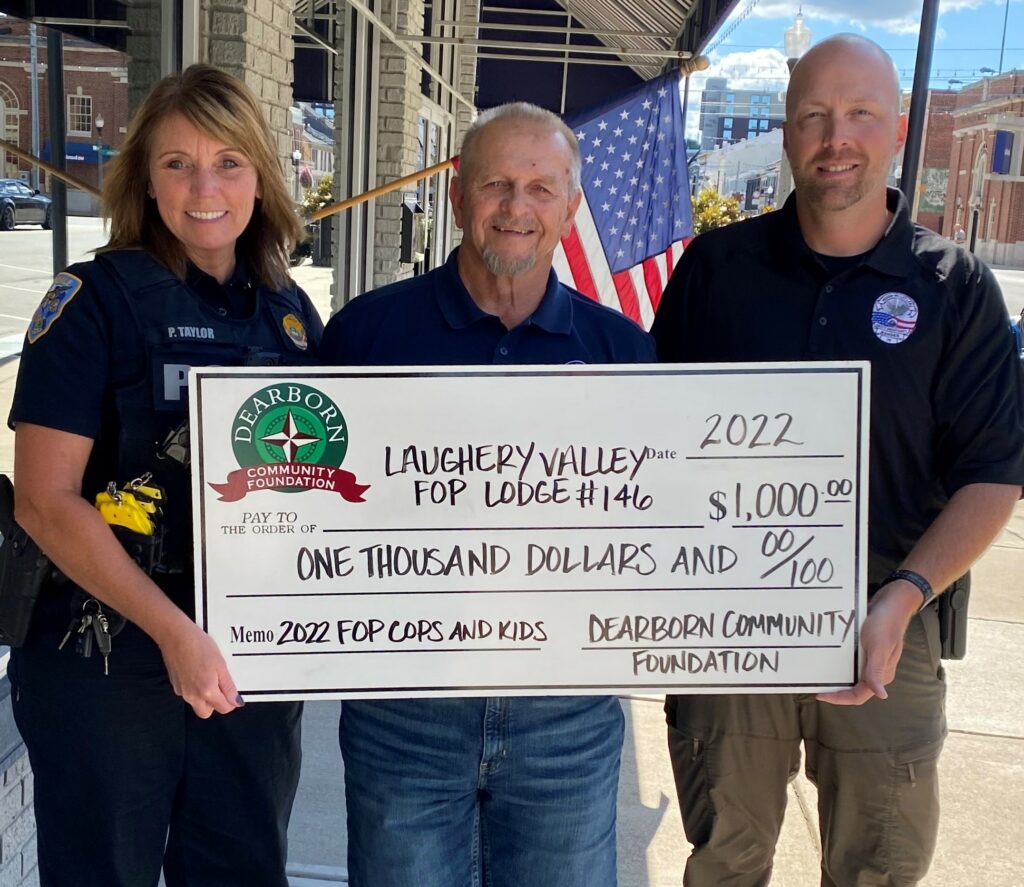 In a continuing effort to make an impact in the community, DCF is awarding 15 proactive grants of $1,000 each throughout 2022 to organizations that serve Dearborn County residents through charitable programs. Each of the Foundation's 15 volunteer board members is recommending a grant. The money comes from the Foundation's Unrestricted Endowment Funds, established by donors to provide flexibility to address changing needs in the community over the years.
DCF Board member Ed Gordon recommended the grant for the Cops and Kids program. "I chose this organization because I feel it is something very worth supporting, and I have seen what it means to the kids who get to shop and the police officers who give their time to help these kids have a wonderful and joyous Christmas," said Gordon.
"No one spends more time and energy to make this program a success than Greendale Police Officer Pam Taylor. I have had the pleasure of working with her when I was a member of the Greendale Fire Department and an EMT on the Greendale Life Squad," said Gordon. "She was always there to offer help or support if needed, and she spends numerous hours on this program to be sure the kids will have all they need for Christmas. I am proud to call her my friend and hope this grant will be a big help for the program."
The Cops and Kids Program, formerly known as Shop with a Cop Program has been in existence for more than 20 years, said Taylor, explaining Laughery Valley FOP Lodge 146 is a not-for-profit organization that strives to "give back" by encouraging and promoting growth in the communities it serves.
"One way this is carried out is through the donation of time and funds, by means of the Christmas Cops and Kids Program and the Dearborn/Ohio County scholarships for high school seniors," said Taylor.
The Laughery Valley FOP represents active and retired law enforcement officers from Dearborn County and Ohio County.
Anyone can contribute to an unrestricted endowment at DCF and help make impact grants like the 15 DCF Board members are recommending in 2022. For a list of unrestricted endowments and to learn more about the Foundation, call 812-539-4115 or visit the Foundation website at dearborncf.org. If you are interested in contributing to DCF, visit the Foundation's "Give Now" website page to donate online and to learn about other giving options.