LAWRENCEBURG, Ind., NOVEMBER 1, 2022 – The Dearborn Community Foundation (DCF), Inc. recently awarded a $1,000 Proactive Grant to the Southeastern Indiana Economic Opportunity Corporation (SIEOC) on the recommendation of Foundation Board member Lisa Moorhead, an educator for more than three decades.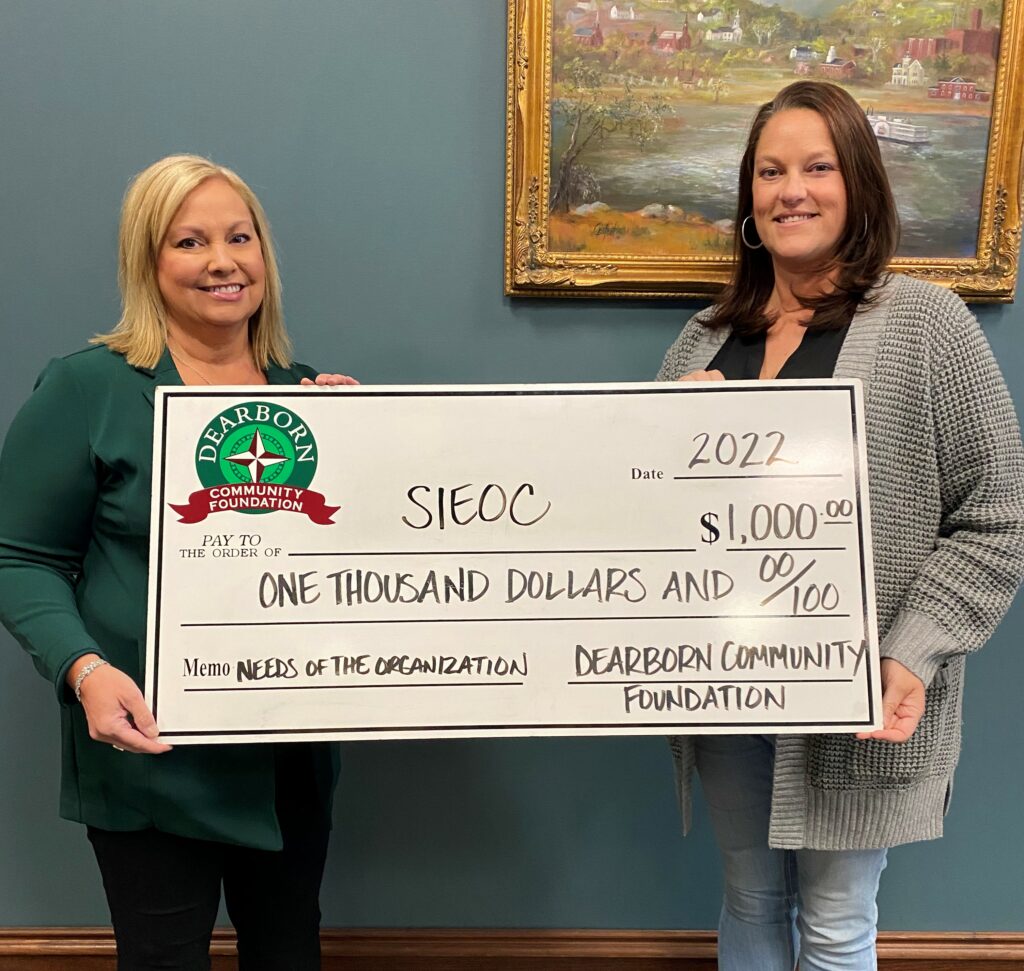 In a continuing effort to make an impact in the Dearborn County community, DCF is awarding 15 proactive grants of $1,000 each throughout 2022 to charitable organizations that serve Dearborn County residents. Each of the Foundation's 15 volunteer Board members recommends a grant. The money comes from the Foundation's Unrestricted Endowment Funds, established by donors to provide flexibility to address changing needs in the community over the years.
"Being involved in the field of education in our community for over 30 years, I have witnessed firsthand the positive impact of SIEOC services and resources for our students and their families," said Moorhead, who is Vice Chancellor-Enrollment Services and Student Success for Ivy Tech's Lawrenceburg/Batesville Service Area.
"SIEOC plays a vital role in assisting families with basic needs to the benefit of our entire community," said Moorhead.
SIEOC provides Head Start; Energy Assistance Program; Covering Kids and Families program for help with health insurance, the Bev Henry Emergency Fund, and many more vital community services. SIEOC also partners with the Marines in the Toys for Tots drive.
"We use it just generally because we have several programs. … It could be used for service to a direct client if they come in here or several other purposes," said SIEOC Executive Director Tammy Cunningham.
The $1,000 grant from DCF can be used as SIEOC sees fit in its efforts to serve clients.
"We were just overwhelmed," said Cunningham. "It just means so much to us that there are people in the community and people who sit on that board who think highly of us and want to see us fulfill our mission."
Anyone can contribute to an unrestricted endowment at DCF and help make impact grants like the 15 DCF Board members are recommending in 2022. For a list of the unrestricted endowments and to learn more about the Foundation, call 812-539-4115 or visit the Foundation website at dearborncf.org. If you are interested in contributing to DCF, visit the website's "Give Now" page to donate online and to learn about other giving options.