LAWRENCEBURG, Ind., MONDAY, DECEMBER 27, 2022 – "Every dollar counts in a ministry this size. The needs are great in our community, and with these funds, it allows us to continue to serve and provide needed material items to those who come through our doors." – Sara Minard, director, Pregnancy Care Center (PCC) of Southeast Indiana. Minard summed up her appreciation for the $1,000 proactive grant the PCC recently received from the Dearborn Community Foundation.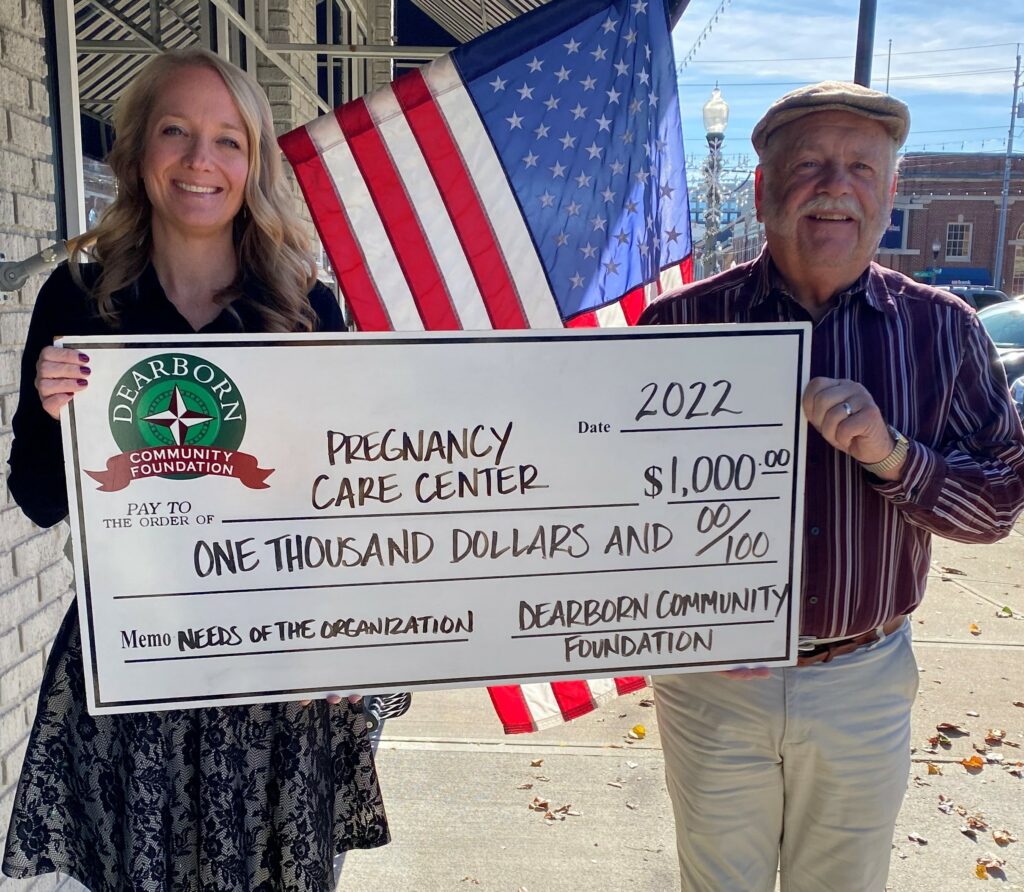 In a continuing effort to make an impact in the community, DCF is awarding 15 proactive grants of $1,000 each throughout 2022 to charitable organizations that serve Dearborn County residents.
Each of the Foundation's 15 volunteer board members is recommending a grant. The money comes from the Foundation's Unrestricted Endowment Funds, established by donors to provide flexibility to address changing needs in the community over the years.
A nonprofit organization, the PCC offers services to those facing an unplanned pregnancy by providing education, limited medical care, information, and resources in Southeast Indiana, said Minard.
"Last year, we served 292 clients, provided 1,066 client visits, 136 pregnancy tests, 79 limited OB ultrasounds, and 361 parenting classes," she said. "We offer pregnancy tests, limited OB ultrasounds, parenting classes, material assistance such as diapers, wipes and formula, and a male mentoring program."
The grant was recommended by DCF board member Mark Neff, who stressed the center is not concerned solely with mother and child but continues to emphasize society's need for "nuclear families."
"Doing anything these days to promote healthy family units is a plus for society," said Neff. "It is important for people to recall what makes this nation great, and it's the nuclear family. … We must promote that with young people, and if we don't, shame on us as a society."
Visit the PCC's website or call 812-537-4357 for assistance, to contribute, or to learn more about services and goals.
Anyone can contribute to an unrestricted endowment at DCF and help make impact grants like the 15 DCF Board members are recommending in 2022. For a list of the unrestricted endowments and to learn more about the Foundation, call 812-539-4115 or visit the Foundation website at dearborncf.org.  Anyone interested in contributing to DCF, visit the website's "Give Now" page to donate online and to learn about other giving options.