Lawrenceburg's Hailey Abdon Declines Scholarship to Attend College Out of State
LAWRENCEBURG, INDIANA, APRIL 25, 2023 – Kiersten Dixon was shocked and honored today when the Dearborn Community Foundation, Inc. (DCF) awarded her the prestigious Lilly Endowment Community Scholarship (LECS) for 2023. The South Dearborn High School senior, who was one of six LECS finalists in Dearborn County, had learned in mid-December 2022 that she did not win one of the two full-tuition scholarships awarded by DCF.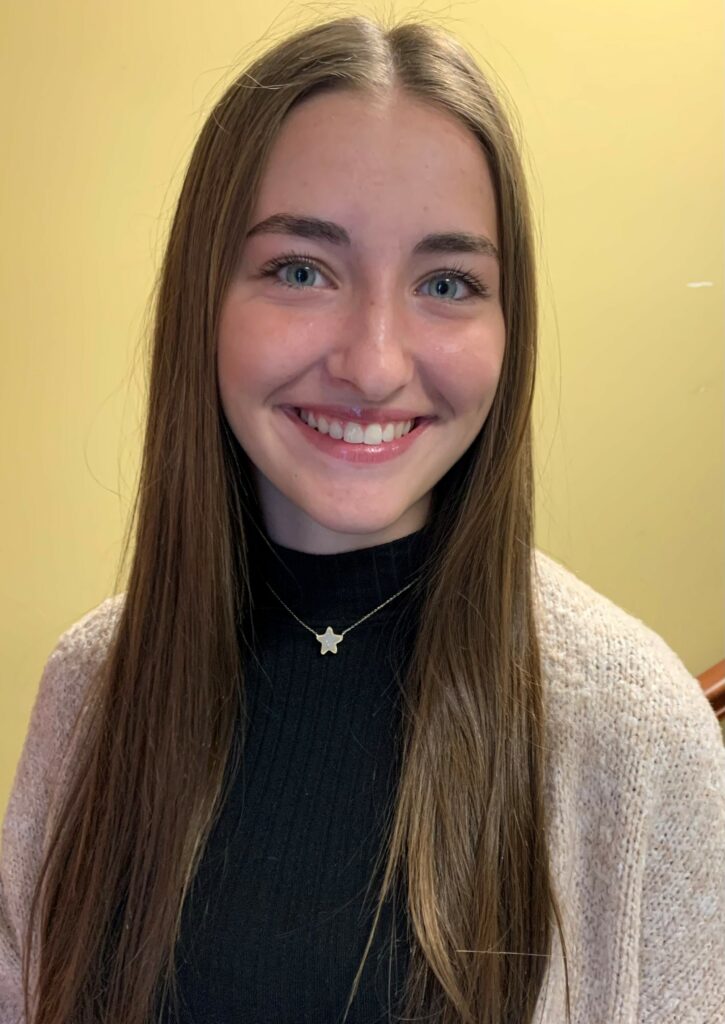 In December, DCF awarded 2023 Lilly Endowment Community Scholarships to East Central High School's Elizabeth Kirchgassner and South Dearborn High School's Ava Slayback. Slayback had another opportunity for a full-tuition scholarship at an out-of-state college and in February declined the Lilly Community Scholarship to attend Mount Saint Joseph University, Cincinnati.
When Slayback declined the scholarship, the Independent Colleges of Indiana (ICI) scholarship guidelines for the Lilly Endowment Community Scholarship kicked into gear. The guidelines call for DCF to also select alternates in case a student, like Slayback, chooses to decline the scholarship. Caitlyn Dick of East Central High School was the first alternate and DCF awarded the Lilly Endowment Community Scholarship to her in February.
Dick then declined the Lilly award to attend the University of Tennessee on scholarship to study Veterinary Medicine. Lawrenceburg High School senior Hailey Abdon was the second alternate and was awarded the scholarship in late March. Abdon recently declined the Lilly Endowment Community Scholarship to study Veterinarian Medicine at the University of Findlay in Ohio. She received a scholarship to attend Findlay.
The third alternate, Dixon, who has already committed to attending Indiana University in Bloomington in the fall, said she's "shocked and thankful" for the opportunity to be a Lilly Scholar. "This is crazy, but it's great. It's so exciting," she said while on lunch break in downtown Aurora after mentoring other students on a community service day.
Annually 147 Lilly Endowment Community Scholarships are awarded in Indiana and, according to Independent Colleges of Indiana (ICI) about 5-8 students annually are awarded the scholarship after other students choose to decline it. The most common reason for a student to decline the scholarship is because they have chosen to attend an out-of-state college. The LECS recipients must attend an Indiana college.
As a Lilly Community Scholarship recipient, Dixon receives full tuition, required fees and a special allocation of up to $900 per year for required books and required equipment for four years of undergraduate study on a full-time basis leading to a baccalaureate degree at any eligible Indiana public or private nonprofit college or university. Lilly Endowment Community Scholars may also participate in the Lilly Scholars Network (LSN), which connects scholars with resources and opportunities to be active leaders on their campuses and in their communities. The scholarship program and LSN are supported by grants from Lilly Endowment to ICI and Indiana Humanities, respectively.
"It was great surprising Kiersten with this high honor and financial assistance for her college education," Fred McCarter, Executive Director of DCF. "It's also great to know all these young women will be attending the college of their choice with the aid of scholarships. Our community should be very proud of them."
Dixon of Moores Hill is the daughter of Kelly Riehle and William Dixon. She plans to study Human Biology at IU and then to attend Indiana University Purdue University Indianapolis to study Dentistry and Orthodontics. At South Dearborn High School, she served in student government and received the Leadership Award. She also participated in varsity golf, basketball, and Track. She received the Most Valuable Award in golf. Dixon also found time to work during the school year along with completing a significant number of community service hours for Dearborn County Clearing House, Aurora Lions Club Breakfast with Santa, and as a youth basketball volunteer.
Abdon, the daughter of Heather Lange and Brandon Abdon, says "it was an honor to be a part of the Lilly Community Scholarship in any way! This sure has been a unique situation. I believe the school I've chosen is the best opportunity for me to do what I want to be good at."
Lilly Endowment Inc. created the Lilly Endowment Community Scholarship Program for the 1998-1999 school year and has supported the program every year since with tuition grants totaling more than $486 million. More than 5,000 Indiana students have received the Lilly Endowment Community Scholarship since the program's inception. The primary purposes of the Lilly Endowment Community Scholarship Program are: 1) to help raise the level of educational attainment in Indiana; 2) to increase awareness of the beneficial roles Indiana community foundations can play in their communities; and 3) to encourage and support the efforts of current and past Lilly Endowment Community Scholars to engage with each other and with Indiana business, governmental, educational, nonprofit and civic leaders to improve the quality of life in Indiana generally and in local communities throughout the state.
Lilly Endowment Inc. is an Indianapolis-based private philanthropic foundation created in 1937 by J.K. Lilly Sr. and his sons Eli and J.K. Jr. through gifts of stock in their pharmaceutical business, Eli Lilly and Company. Although the gifts of stock remain a financial bedrock of the Endowment, it is a separate entity from the company, with a distinct governing board, staff, and location. In keeping with the founders' wishes, the Endowment supports the causes of community development, education and religion. The Endowment funds significant programs throughout the United States, especially in the field of religion. However, it maintains a special commitment to its founders' hometown, Indianapolis, and home state, Indiana.
Since 1997, Independent Colleges of Indianahas administered the Lilly Endowment Community Scholarship Program statewide with funding provided by Lilly Endowment. Founded in 1948, ICI serves as the collective voice for the state's 29 private, nonprofit colleges and universities. ICI institutions employ over 22,000 Hoosiers and generate a total local economic impact of over $5 billion annually. Students at ICI colleges have Indiana's highest four-year, on-time graduation rates, and ICI institutions produce 30 percent of Indiana's bachelor's degrees while enrolling 20 percent of its undergraduates.