LAWRENCEBURG, Ind., NOVEMBER 20, 2023 – The Dearborn Community Foundation (DCF), Inc. recently awarded a $1,000 Proactive Grant to the St. Vincent de Paul Society, which has for nearly 200 years provided food, clothing, and other assistance to those in need.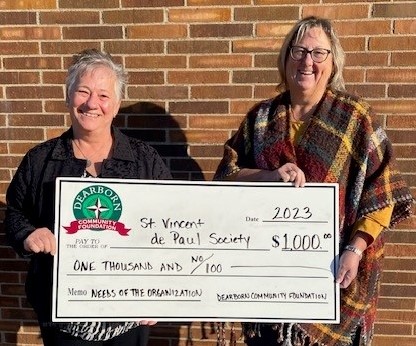 In its 25th year of helping donors make a difference, DCF is awarding 15 proactive grants of $1,000 each throughout 2023 to charitable organizations that serve Dearborn County residents. Each of the Foundation's 15 volunteer Board members is recommending a grant. The money comes from the Foundation's Unrestricted Endowment Funds, established by donors to provide flexibility to address changing needs in the community over the years.
The $1,000 grant awarded to St. Vincent de Paul was recommended by DCF Board member Jan Tyler of Aurora.
"The St. Vincent de Paul local volunteers are the 'hands and feet of Jesus,' doing His work and serving those He dearly loves," said Tyler, quoting from the organization's mission statement. "Sharing our gifts is a clear demonstration that people of faith are never alone. We serve God and our church by serving the poor. We really do make a difference."
The local St. Vincent de Paul Society, 210 Fifth St., Aurora, is staffed entirely by volunteers from St. Mary Church in Aurora on Thursdays from 10 a.m. to 2 p.m.
"Over the past years, I've seen firsthand the good that is accomplished at St. Vincent de Paul Society in Aurora," said Tyler. "The clients who benefit from our community's generosity are very grateful for the assistance, and also get to witness the volunteers being the hands and feet of Jesus. There is a true need in our local community, and this grant will help meet these basic needs."
Visit St. Vincent de Paul Society's Cincinnati website (https://www.svdpcincinnati.org) or call 812-926-1637 to contribute.
Anyone can contribute to an unrestricted endowment at DCF and help make impact grants like the 15 DCF Board members are recommending in 2023. For a list of the unrestricted endowments and to learn more about the Foundation, call 812-539-4115 or visit the Foundation website at dearborncf.org. If you are interested in contributing to DCF, visit the website's "Give Now" page to donate online and to learn about other giving options.