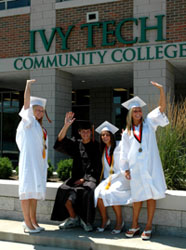 This scholarship was established in 2001 by Wilma and Charles Beyer in memory of their daughter Denise Ann Beyer. The purpose of the scholarship is to support a current-year graduating student of South Dearborn High School who has met the scholarship criteria and is pursuing either a two-year or a four-year college degree in a math or science related field; including but not limited to computers, engineering, economics, business, pharmacy, nursing or teaching science/math/computers but might not otherwise have the financial means to do so.
Amount of Scholarship: One scholarship up to $500.00
Click Here to Apply for This Scholarship
Please use your browser's "Back Button" to return to the previous page.
Contact the DCF office with questions relating to available scholarship opportunities:
Dearborn Community Foundation
322 Walnut Street
Lawrenceburg, IN 47025
(812)539-4115 phone